BUSINESS BANKRUPTCY FILINGS MID-YEAR REPORT 2019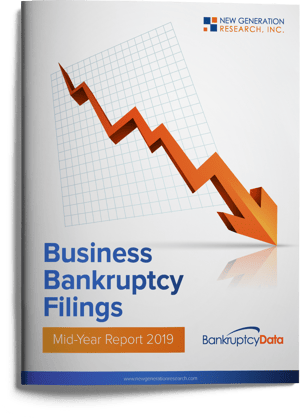 BankruptcyData is the industry's most extensive database of business bankruptcy information.

Between our data collection, the analyses of our in-house editorial and research teams, and our technology platform, we specialize in increasing the signal and reducing the noise in the bankruptcy information environment.
BankruptcyData allows subscribers to spend less time looking for business bankruptcy information and more time using it.

Download our free Business Bankruptcy Filings Mid-Year Report 2019.




TAKE A BANKRUPTCYDATA TRIAL
BankruptcyData has reinvigorated how professionals interested in the bankruptcy sector consume, share, manage and leverage vital data, research and analysis. We provide a competitive advantage to those interested in making more informed decisions regarding the bankruptcy and distressed sectors.
A Free Trial to BankruptcyData lasts seven days and will give you access to all BankruptcyData features but with limited output results. The goal of the free trial is to give interested parties first hand exposure to the many features that BankruptcyData has to offer. Contact John Flynn for a free trial at jflynn@newgenerationresearch.com or schedule a meeting at your convenience.
THANK YOU FOR YOUR INTEREST IN BANKRUPTCYDATA.